The Infini Luxury Pool Villas Pattaya
The Infini Luxury Pool Villas Pattaya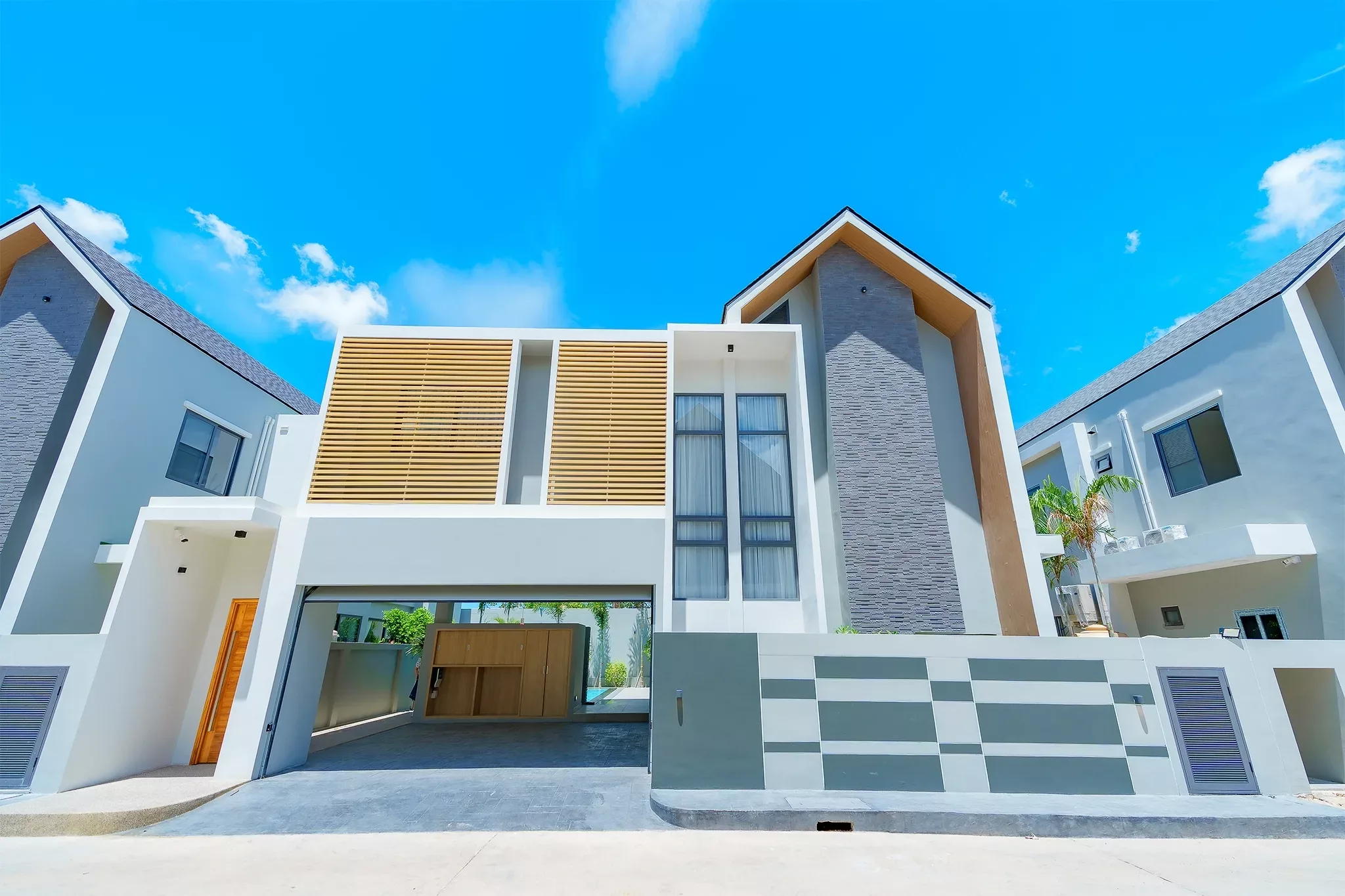 Introduction: Welcome to The Infini Luxury Pool Villas Pattaya, a prestigious residential enclave nestled in the serene beauty of Bang Lamung, Chonburi. Completed in 2022, this exceptional project comprises just 19 meticulously designed villas, each a testament to modern luxury and timeless architectural elegance. If you seek an unparalleled living experience in Pattaya, you've arrived at the perfect destination.
Modern Luxury, Timeless Architecture: The Infini Luxury Pool Villas Pattaya represents a pinnacle of modern luxury living, characterized by its "Modern Luxury New Iconic Architecture" style villas. Each villa has been thoughtfully crafted to cater to the diverse and discerning needs of our homeowners. With a limited collection of only 19 units spread across more than 5 rais of land, exclusivity is guaranteed. This is the perfect choice for those who desire a unique and sophisticated coastal lifestyle.
Smart Living at Your Fingertips: Experience the ultimate in convenience with our state-of-the-art smart home system. With just a few taps on your smartphone, you can effortlessly control various aspects of your villa. From adjusting electric lighting and climate control to operating automatic garage doors, everything is seamlessly integrated to simplify your life. Furthermore, each villa is equipped with an electric vehicle charging system, aligning with our commitment to sustainability. To maintain the pristine aesthetics of the project, all main power cables are discreetly buried underground, ensuring unobstructed views and a serene ambiance.
Relaxation at Its Best: At The Infini Luxury Pool Villas Pattaya, relaxation takes center stage. Each villa features its own private swimming pool equipped with a spa salt system, offering both indulgence and health benefits while eliminating the risk of allergic reactions. The villa interiors are designed to maximize natural light and airflow, emphasizing energy efficiency. The inclusion of Double Ceiling Height enhances the feeling of spaciousness, with hall ceilings soaring to over 8 meters. Rest assured, your security and peace of mind are paramount, with a comprehensive CCTV system and dedicated security guards ensuring a safe and worry-free living environment.
Property Details and Pricing:
Year Completed: 2022
Buildings: 19
Units: 19
Floors: 1
Private Pool: Yes
CCTV: Yes
Security Guard: Yes
Garage: Yes
Garden: Yes
24-hour Security: Yes
Pricing at The Infini Luxury Pool Villas Pattaya begins at an enticing ฿14,600,000, providing exceptional value for the luxury and exclusivity offered. Premium villas, with even more opulent features and larger living spaces, are available for up to ฿24,800,000. The average price per square meter is an attractive ฿51,851, making these villas a smart investment opportunity.
Strategically Positioned: The Infini Luxury Pool Villas Pattaya enjoys a prime location in Pattaya City, offering close proximity to markets, shopping centers, and international schools. Accessibility is effortless, with multiple routes connecting you to Pattaya City and the new motorway. This facilitates convenient travel to renowned destinations both within and beyond Pattaya City.
Conclusion: The Infini Luxury Pool Villas Pattaya redefines coastal living by merging modern luxury, intelligent design, and tranquil surroundings. With a limited number of units, smart home technology, private pools, and a prime Pattaya City location, this exclusive enclave offers a lifestyle of distinction and convenience. Explore your options today and immerse yourself in the tranquil luxury of The Infini Luxury Pool Villas Pattaya.