Jomtien Pattaya
Jomtien, Pattaya: Embrace the Coastal Bliss
Welcome to Jomtien, a coastal paradise nestled south of vibrant Pattaya. Prepare to immerse yourself in the embrace of this idyllic destination, where pristine beaches, vibrant water activities, and a laid-back atmosphere converge. Explore the coastal bliss of Jomtien, offering a serene retreat and an abundance of experiences to cherish.
Jomtien is renowned for its breathtaking sandy beaches, creating an ideal haven for relaxation. Sink your toes into the powdery sand, soak up the tropical sun, and allow the gentle sea breeze to lull you into a state of tranquility. Jomtien beckons you to surrender to its serene ambiance and revel in moments of pure bliss.
For water enthusiasts, Jomtien presents an array of thrilling aquatic adventures. Dive into the clear turquoise waters and discover the vibrant marine life while snorkeling or scuba diving. Engage in adrenaline-pumping water sports like jet skiing, parasailing, or kiteboarding, adding excitement to your coastal getaway.
Indulge your taste buds in the diverse dining scene near Jomtien. From delectable seafood delights to international cuisines, relish the flavors of exquisite dishes while enjoying panoramic ocean views. Jomtien offers a culinary journey that tantalizes your palate and creates lasting memories.
As the sun gracefully sets, Jomtien paints the sky with stunning hues, creating a picturesque backdrop for evening strolls. Take a leisurely walk along the palm-fringed beach, soak in the breathtaking vistas, and let the serene ambiance wash over you, offering a true escape from the bustle of everyday life.
Jomtien offers a range of accommodations to suit various preferences and budgets. Whether you choose a luxurious beachfront resort or a cozy guesthouse, expect warm hospitality and easy access to the sun-kissed shores and captivating views.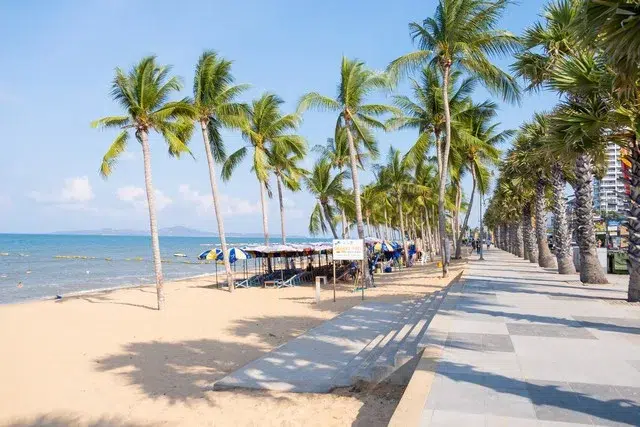 Located in close proximity to Pattaya's lively city center, Jomtien provides a peaceful oasis while ensuring convenient access to the city's attractions. Explore vibrant markets, indulge in shopping sprees, or immerse yourself in the vibrant nightlife. Jomtien strikes a perfect balance between tranquility and accessibility, making it an ideal destination for those seeking a coastal escape.
Escape to Jomtien, Pattaya's coastal paradise, and immerse yourself in its natural beauty and laid-back charm. Savor the flavors, capture the mesmerizing sunsets, and embrace the serene ambiance that makes Jomtien an exquisite gem in Pattaya.