Narita Villa Pattaya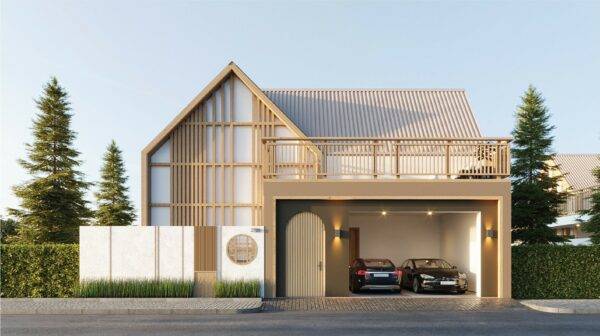 Narita Villa Pattaya: Your Gateway to Lakeside Luxury
Finding the perfect home is not just about the property itself; it's about the lifestyle it offers, the location it graces, and the overall experience it promises. Nestled serenely alongside the picturesque Chak Nok Lake, within the tranquil embrace of the Tung Klomtarnman 18 area, Narita Villa extends an alluring invitation to immerse yourself in lakeside luxury living at its absolute finest. With prices ranging from ฿ 9,490,000 to ฿ 9,990,000, and generous land sizes spanning from 76.24 Sqw to 84.58 Sqw, coupled with a capacious living area encompassing 230 Sqm, Narita Villa is more than just a residence; it's an introduction to a world where luxury and natural beauty harmonize effortlessly.
Prime Lakeside Location
The true essence of Narita Villa lies in its exceptional location. Situated alongside the tranquil banks of the picturesque Chak Nok Lake, this exclusive residential development presents a lifestyle that is truly unparalleled. Imagine the luxury of waking up to the soothing rustle of leaves, the melodious symphony of the lake, and the breathtaking vistas of nature unfolding all around you. This is lakeside living at its purest form, where each day feels like a canvas painted with the soothing hues of nature's masterpiece.
However, the allure of Narita Villa extends far beyond its natural beauty. It skillfully blends the tranquility of lakeside living with the convenience of urban accessibility. Here, you can savor the serenity of lakeside life without sacrificing access to essential amenities. From top-notch schools to bustling shopping centers, everything you need is just moments away. With multiple access points to Pattaya City and the newly constructed motorway, you're seamlessly connected to the vibrant city center and all its attractions.
Luxurious Lakeside Living
At Narita Villa, luxury is not a concept; it's a way of life. These exclusive villas are thoughtfully designed to cater to your every desire, ensuring that every day unfolds like an opulent vacation.
Private Swimming Pool: Each villa proudly boasts its private swimming pool. Whether you desire an invigorating morning swim or a tranquil evening by the poolside, it's your personal sanctuary of relaxation.
Fully Fitted and Furnished Interiors: Step inside Narita Villa, and you'll be greeted with modern luxury at every turn. From the meticulously chosen fixtures to the thoughtfully curated furnishings, every detail is meticulously designed for your comfort and indulgence.
Space and Elegance: With three capacious bedrooms, four well-appointed bathrooms, and a vast living area, Narita Villa strikes the perfect balance between space and elegance. The open, airy design invites an abundance of natural light to grace your home, creating a warm and welcoming ambiance. The ceiling height, soaring to over 8 meters, adds an element of grandeur, making your living space a true work of art.
Exclusivity and Convenience
Narita Villa isn't just another housing development; it's an exclusive haven of lakeside luxury. With only a limited number of units, peace and solitude are always within your grasp. No need to fret about noisy neighbors or overcrowded common areas.
Parking Space for Two Cars: Convenience is paramount at Narita Villa. Each villa includes parking space for two vehicles, ensuring that you and your guests always have a safe place to park.
Fully Equipped Electrician System: In today's modern world, technology is key. Narita Villa comes equipped with a cutting-edge electrician system that streamlines your life. From lighting controls to security systems, you can manage every aspect with the tap of a finger.
Safety and Security: Your tranquility and safety are our utmost priorities. Narita Villa is outfitted with an all-encompassing security system, complete with 24-hour surveillance. This ensures that you and your loved ones can rest easy, knowing that you're shielded in this serene enclave.
Invest in Lakeside Luxury
Investing in Narita Villa isn't just about purchasing a house; it's about securing your future. The serene lakeside location, the opulent amenities, and the exclusivity of this development combine to make it an astute investment decision.
Dream Home: If you're searching for your dream home, Narita Villa is where your dreams can find a home. It's a place where you can craft enduring memories with your family and friends, a haven of joy.
Investment Potential: If you're eyeing a shrewd investment, look no further. The high demand for rentals in this area and the promise of capital appreciation make Narita Villa a compelling prospect for investors.
Experience Lakeside Luxury at Narita Villa
Are you prepared to raise your lifestyle to new heights and embrace the epitome of lakeside luxury living? Narita Villa isn't simply a home; it's an experience, a place where every day is a celebration, and each moment is infused with the spirit of relaxation and indulgence.
Embark on a journey to explore the world of Narita Villa on our dedicated page and seize the opportunity to possess your slice of lakeside paradise. Your lakeside dream, filled with natural beauty and modern comforts, awaits you. For currently available properties, please [click here](insert property link).
Don't let this opportunity slip through your fingers. Contact us today to gain deeper insights and schedule a personal visit. Experience lakeside luxury like never before, at Narita Villa, where life is truly beautiful.