Infini Villas Pattaya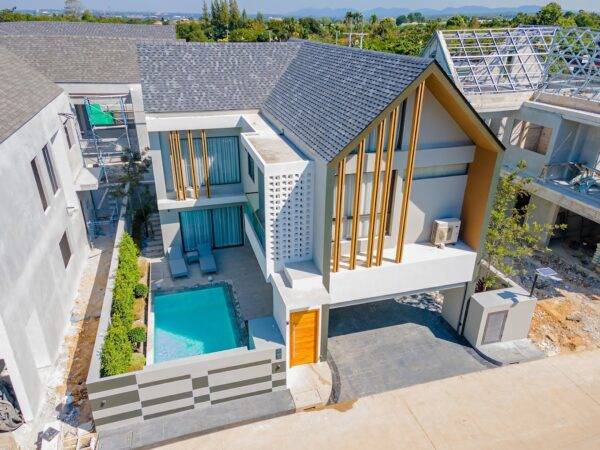 Infini Villas Pattaya: A Masterpiece of Modern Luxury Living
Prices Starting From: ฿ 14,600,000 – ฿ 24,800,000 Average Price per Sqm: ฿ 51,851
Welcome to The Infini Pattaya, where the definition of luxury is reimagined in the form of these Modern Luxury Style Pool Villas. Each villa is a single-house sanctuary, a testament to "Modern Luxury New Iconic Architecture" that caters to your every need. It stands as the epitome of perfect living, offering an exclusive lifestyle experience that is unparalleled. With only 19 exquisite units spread across an expansive area of more than 5 rais, privacy and exclusivity are paramount.
Key Features:
Exclusive Living at its Finest: The Infini Pattaya introduces a world of sophistication with its Smart Home system, seamlessly integrating technology into your daily life. Control lighting, air conditioning, automatic garage doors, and even electric vehicle charging systems with just a touch.

Aesthetic Elegance: The underground power cable system ensures unobstructed 360-degree views of the project, free from unsightly electric poles. It's a vista that redefines your appreciation for space and aesthetics.

Indulge in Luxury: Each villa features a private swimming pool with a spa salt system that's gentle on your health, eliminating allergic reactions. The design focuses on maximizing natural light and energy efficiency, with soaring Double Ceiling Heights, reaching over 8 meters, allowing air to flow freely.

Security and Serenity: The Infini Pattaya prioritizes your peace of mind with 24-hour security, CCTV surveillance, and a safe, gated environment. Your life here is not just comfortable; it's happiness embodied.
Prime Location:
Nestled in the heart of Pattaya City, this project enjoys easy access to markets, shopping centers, and international schools. Multiple access points to Pattaya City and the new motorway ensure seamless journeys to all your desired destinations, whether they be within the city or beyond.
Property Details:
Villa Type
Year Completed: 2022
Total Buildings: 19
Total Units: 19
Single-Story Design
Private Pool
CCTV Surveillance
Dedicated Security Team
Spacious Garage
Lush Gardens
24-Hour Security
Infini Villas Pattaya is more than just a residential project; it's an embodiment of modern luxury living, where every detail has been meticulously curated to redefine your lifestyle. Your perfect haven awaits.