34 Mabprachan Lake Mansion
34 Mabprachan Lake Luxury Mansion For Sale In Pattaya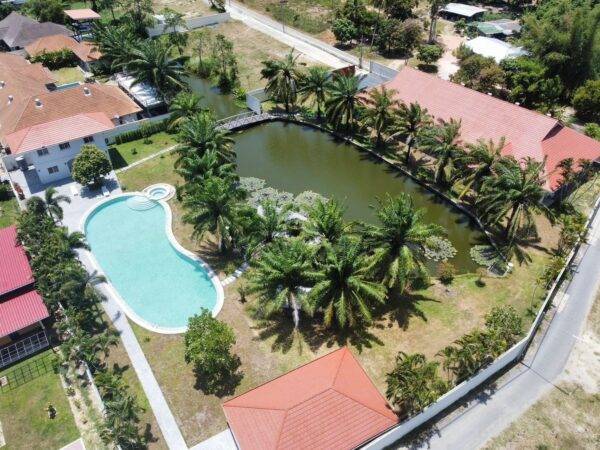 Luxury Mansion for Sale  34 Mabprachan Lake: Embrace Lakeside Grandeur

Discovering the ideal residence is about more than the physical structure. It's the embodiment of lifestyle, location, and the luxurious experiences it curates. Set against the serene backdrop of the Mabprachan Lake, House for Sale Mabyailia 34 is a sublime portal into a life of lakeside splendor. With a generous size of 3 Rai and a refined setting of 9 bedrooms and 8 beautifully refurbished bathrooms, this is more than just a house; it's where nature's charm and elite living seamlessly converge.
Pristine Lakeside Location
The allure of Mabyailia 34 lies deeply in its unmatched location. Perched next to the calm waters of Mabprachan Lake, this property offers a lifestyle steeped in nature's beauty. Begin your day to the gentle lapping of lake waters, the hushed whispers of the surrounding greenery, and unparalleled scenic views that inspire and invigorate.
Yet, the essence of Mabyailia 34 isn't merely its scenic beauty. It marries the serenity of lakeside existence with urban conveniences. Whether it's premier educational institutions, vibrant shopping avenues, or essential services, all are within arm's reach. The connectivity to the bustling heart of Pattaya and its attractions is effortless, making it the best of both worlds.
Lakeside Living Reimagined
Mabyailia 34 elevates the concept of luxury living by the lake. This distinctive property is meticulously tailored to resonate with your deepest desires, creating an ambiance of opulence at every corner.
Spacious and Elegant Design: With 9 expansive bedrooms and 8 elegant bathrooms, every inch of the house breathes sophistication. The thoughtful refurbishment adds an aura of modern grandeur to each space.

Thai Corporate Legacy: Owned under a prestigious Thai company name, this property not only offers a lavish lifestyle but also holds symbolic prestige.
Exclusivity Meets Practicality
Mabyailia 34 is a testament to elite lakeside living. With its expansive size and exclusive ambiance, it offers an oasis of tranquility, ensuring every moment spent here is one of peace and luxury. It's not just a residence; it's a symbol of status and elegance.
Invest in Lakeside Brilliance
Mabyailia 34, priced at 45,000,000 THB, is not just an acquisition of a luxurious home, but a commitment to an upscale future. Its prime location by Mabprachan Lake, combined with its grandeur, makes it a coveted choice for both homeowners and investors.
Experience Lakeside Prestige at Mabyailia 34
Are you ready to elevate your lifestyle and immerse in unparalleled lakeside luxury? Mabyailia 34 is not just a property; it's a journey of elite living by the tranquil Mabprachan Lake. Visit our exclusive page to delve deeper into this lakeside gem. Your opportunity to own a piece of lakeside brilliance is right here.
Seize this exceptional opportunity today. Contact us for insights and arrange a personal tour. Revel in a lakeside experience par excellence, only at Mabyailia 34, where every day is a testament to elite living.